Wenzhou Yizhang Machinery Co., Ltd. was established in October 2004. It has been approved by Zhejiang Foreign Trade and Economic Cooperation Bureau to obtain the right to import and export trade. The first batch of professional production of printing machinery, plastic machinery, packaging machinery, One of the mechanical equipment assembly line production companies for paper pipette machinery and paper processing machinery.
The company's person in charge has more than 20 years of foreign trade experience, not only has professional international trade personnel to do pre-sales guidance, but also has a strong professional technical team to carry out after-sales service, we have the full ability to set up a new factory for customers, to provide customers with Technical support, equipment screening combination, raw material supply and other one-stop services. Products are sold to markets in the Americas, Africa, Southeast Asia and some countries in the Middle East and Europe. In order to better serve customers in Central Asia and Africa, we have set up a technical service office in the China Commodity City (DRAGON-MART) in Dubai's Jebel Ali Free Zone for about 10 years, winning the trust and praise of our partners. In addition, technical consultation points have been established in Mexico, Egypt and Singapore.
Tel: 0577-86009991/86059991
Fax: 0577-86066075
product description
Digital screen printing machine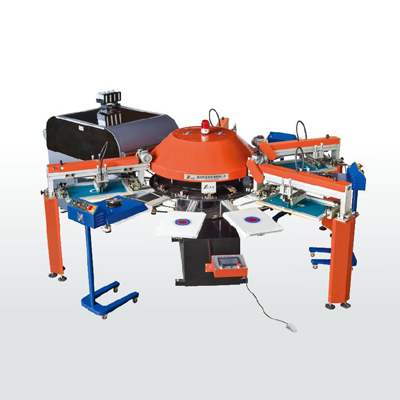 Digital screen printers are machines that use screen printing to print text and images.
Product specifications
Model: SPG3040 / 12
Maximum printing area: 300 * 400 mm
Pallet size: 400 * 500 mm
Air source: ≥6Mpa
Production: 600pcs / hour
Main motor power: 5.2KW
Power per dryer: 13.5KW
Size: Φ4060* 1650
Weight: 1960 kg
main feature
The screen printing machine is a representative printing equipment in the stencil printing machine, and its printing plate is a criss-crossing, warp and latitude screen which is woven from materials such as silk. A variety of screen printing machines, such as planes, curved surfaces, forming, printing and dyeing, printed circuits and new types of rotary printing, have been produced. Among them, the new rotary screen printing machine has a relatively high speed and productivity. It is characterized in that the screen is mounted on the drum and the ink is poured into the drum. The drum rotates while the machine is working, and the squeegee prints the pattern quickly onto the print.
YH automatic textile screen printing machine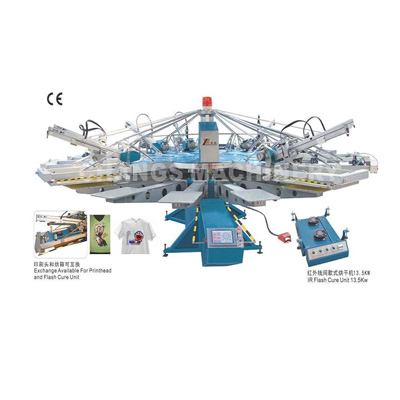 YH automatic textile screen printing machine adopts automatic control system combining mechanical, electrical and pneumatic control, combined with screen printing principle, can create high quality printer in any printing workshop. The YH series is available in 4 types, 6 types, 8 types, 10 types, 12 types and 14 colors. The maximum image area is 500×700mm, all of which can be used in T-shirts, clothing materials, non-woven bags, and trouser legs. The YH series printed on cardboard adopts servo drive indexer, AC motor drives print head and pneumatic lifting turntable, glass plate, PVC / PU board, fabric board bag and so on.
main feature
1. Combine advanced technology at home and abroad, high speed and beautiful.
2, automatic positioning system, precision turntable, stable operation, well-positioned.
3. Each scraper and overflow vane can be operated separately by a separate chopper, the speed is regulated by frequency, and the air pressure is slight.
4. It adopts imported servo motor drive system, which runs smoothly, accurately and quickly.
5. A central computer controller system with multiple switching languages.
6. The three curing zones in each flash curing unit can be set independently.
7. Dual station indexing function can increase production.
8. The bounce switch is used to skip empty trays or poor printing, reducing waste.
9. High density printing is available.
Security system
1, the print head and the safety rope installed between the four safety bars around the loading/unloading station eliminate any tripping accident
2, Skip-shirt smash buttons on both sides of the touch screen, allowing operators to avoid printing on empty trays while traveling
3, one hundredth of a second of the indexer stops triggering time provides a strong security