Device Running Video:
SPO Oval screen printing machine for White T shirt
Basic introduction:
Oval type automatic Screen printing machine is based on rotary screen printing machines,its performance and printing process is very well.The machine adopts modular design, high-strength aluminum alloy structure,the main rotation system adopt high-precision servo drive to assure the fast and stable operation,with the features of accurate printing, reliable performance, easy operation.Suitable for water-based ink, plastisol ink,Solvent ink and other printing processes, standardly configurated with flocking function.It's best for pieces and various garment printing, and also flocking processing.
Control system:
1.Man-Machine interface and PLC system ,self-diagnosis.
2.Language can be exchanged between Chinese and English by Touch screen , and the help simplifies the process of operation and training.
3.Real-time display of production speed to more clearly control the operating costs.
4.four operation modes: match mode, preheat platen, automatic cycle, single cycle.
Printing platen:
1.Adopt the high strength and high-temperature resisting aerospace aluminum plate
2.Installing and replace is very rapid.
Printing station:
1.Each station can be controlled individually and be operated work or stop easily,also can control the entire equipment ON/OFF.
2.The speed and pressure of squeegee is independently adjustable.
3.Floodbar and squeegee can be fixed and took off without anytools.
4.The stop position of print head can be set freely;
5.AC drive system, stepless speed regulation.
6.Screw adjust position, accuracy± 0.05 mm
7.Printing times and route can beset free.
Rotating System:
1.Servomotor drive, running precise, high-speed, stable.
2.Multiple speed can be customized according to user demand.
3.Forward and reverse.
Module Expansion:
1.Customers buy the printing machine with the suitable numbers of stations according to demand.
2.For further needs,you can quickly and easily enlarge the machine in every two-station units.
Design & Construction:
1.High-strength, high-precision alloy aluminum structure,simple,lightweight,stable and secure;Enclosed stainless steel countertops ensures the safe operation and easy clean.
2.Modular design makes the site installation quick and future expansion easy.
Details show: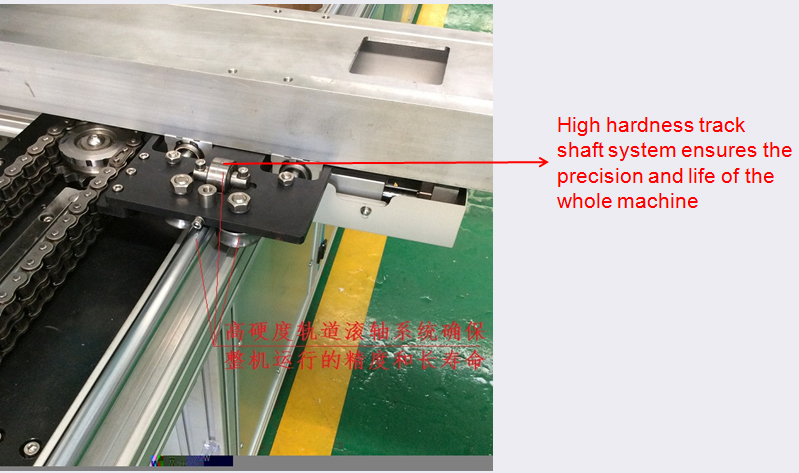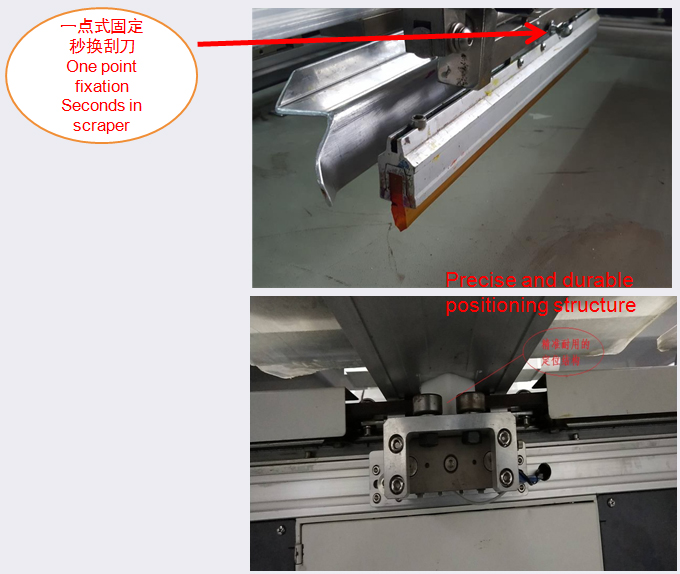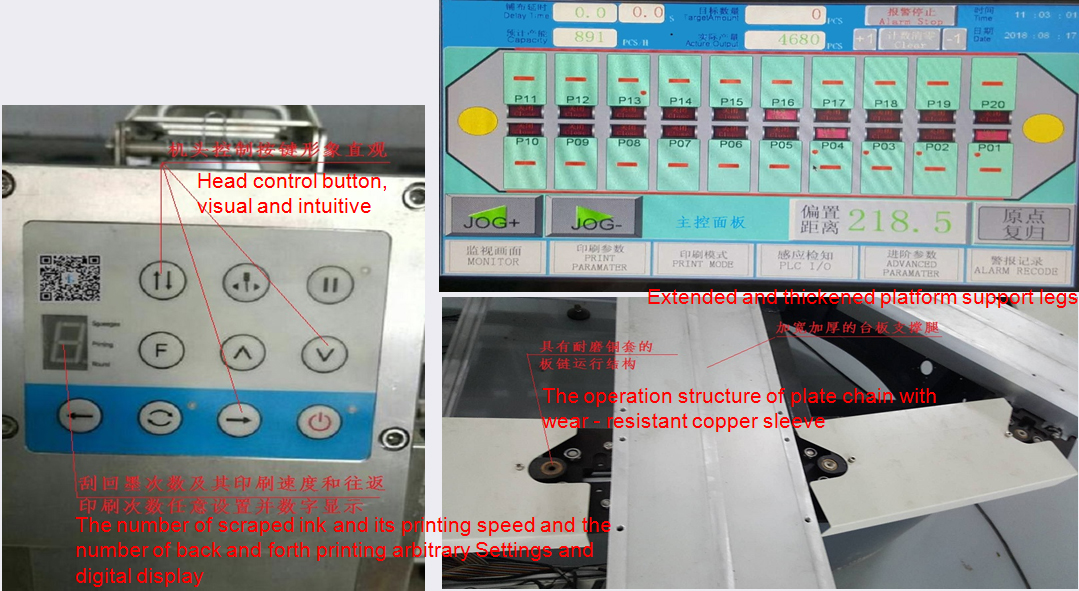 Parameters: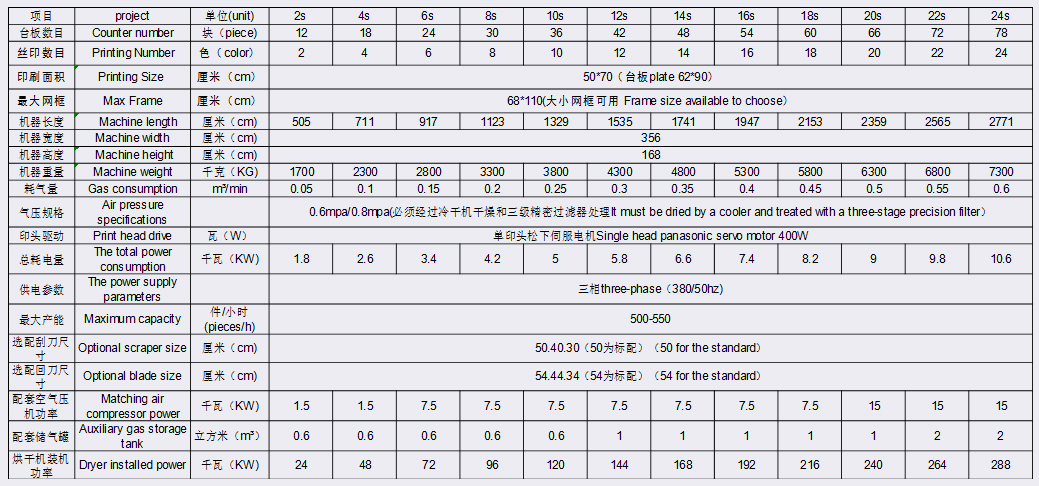 Technical parameters: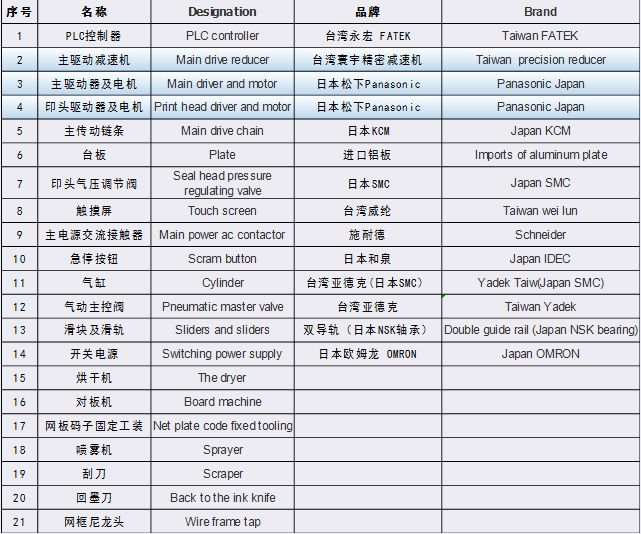 After sales service:
Service tenet
The principle of honesty and credit, timely and agile response, the best work, thoughtful and satisfactory service.
Service commitment
Customer satisfaction is our responsibility. Perfect technical service and technical guarantee are implemented by Changs company -- -- customer service center to ensure customers enjoy stable operation effects. We will provide long-term and continuous "quality service" to minimize the risk of unknown products and provide customers with reliable and intelligent products.
After-sales service
1. After the product enters the place designated by the customer, the debugging staff of the factory can be informed to enter the site for installation and debugging when the customer prepares the required printing materials and other auxiliary facilities. After passing the debugging acceptance, the client shall fill in the opinions and sign and seal on the debugging acceptance report.
2. Operation training: the factory will select experienced technicians with good quality to train the operators of the customers until the operators can operate the production independently and guide the correct maintenance methods. Equipment fault pretreatment. Replacement of accessories, etc.
3. Door-to-door maintenance: after the customer notifies the factory about the product failure, the factory will make a quick response within 2 hours and decide whether it is necessary to provide door-to-door service.