The 33rd CSGIA China International Screen Printing and Digital Printing Exhibition/Asia-Pacific Screen Printing Image Exhibition/China International Textile Printing Exhibition will appear in Shanghai New International Expo Center from October 30 to 11.1, 2019.
The exhibition is about 30,000 square meters, attracting nearly 500 well-known brands at home and abroad. The exhibitors will bring the latest products and technologies of digital spray painting, textile printing, screen printing and other equipment and consumables, presenting a splendid event of screen printing + digital, providing an international exchange and trade platform for global industry enterprises to explore and develop China and overseas markets. It will also play a positive role in promoting the transformation and upgrading of China's screen printing digital industry.
Exhibits range: garment home textiles, gift packaging, wallpaper tiles, screen prints, packaging and printing advertising posters, logo signs, art ceramics, touch panel, glass decoration.
Wenzhou Changs Machinery Co.,Ltd
Booth number: 1220A
Wenzhou Changs Machinery Co.,Ltd.(Former:Rui'an Yizhan Printing Machinery Co,.Ltd. )was established in March 2006 in Yunjiang Standard Factory Light Industrial Zone, Nanbin, Ruian City, Zhejiang Province. It is a diversified enterprise integrating scientific research, design, production, sales and service. It specializes in flat screen printing equipment, digital direct jet printing equipment and decorative equipment for clothing, clothing, shoes and leather. Digital UV multi-color screen printing machine, automatic disc multi-color screen printing machine, automatic disc and digital combination printing machine, semi-automatic multi-color printing machine, automatic desktop multi-color printing machine, manual printing machine, curved screen printing machine, balloon screen printing machine and auxiliary equipment of screen printing machine.
In line with the concept of "realistic innovation, people-oriented, customer-centered", the company strives to promote a splendid human life with science and technology, and strive to add bricks and tiles to the development of China's printing industry, so as to truly achieve "a good grasp of the manipulator, fashion printing need not worry".
Product introduction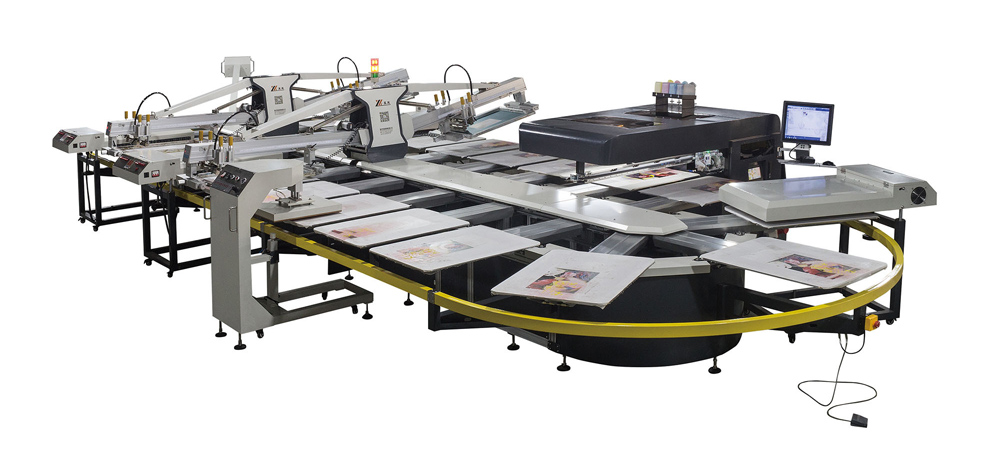 SPO automatic oval multi-color flat screen printing machine is a new printing equipment launched by Wenzhou Yizhang Machinery Co., Ltd. The whole machine adopts modular design, which can expand the printing head and position at any time. High strength aluminium alloy structure, closed desktop, make the operation safe, easy to clean. Flexible and convenient web frame clamping positioning device is conducive to rapid and accurate edition alignment and saves edition change time.
Driven by high-precision Japanese Panasonic servo motor, it runs fast and flexible, overprints accurately, performs reliably and operates easily. Man-machine interface and programmable controller support fault self-diagnosis and trouble-shooting prompt function, real-time display of production speed, so that the cost can be clearly controlled. Each station can be controlled independently, and printing times and travel can be set freely.
The machine is suitable for various printing processes such as water slurry, thermosetting ink and glue. It can be equipped with flocking machine, pressing machine, digital direct jet printing machine and other printing processes. It is the ideal equipment for cutting and various ready-made clothes printing. It greatly improves the quality of products and brings high added value to enterprises.