Wenzhou Changs Machinery Co.Ltd is one of the first company specialized in manufacturing printing machines, packing machines,paper straw machine,plastic machine and paper converting machines,has owned export and import license since 2004.
To consider our full service convenience, we have set up service office and showing room at DRAGON-MART of Dubai to provide technical service for customers from Middle East and Africa in 2006, and also we have established technical support offices in Mexco, Egpty and Singapore, our service has satisfied with all of our customers. We enjoy sound reputation in oversea's market and domestic.
To serve buyers the best machine and ensure our machines are with reliability quality, our factory employed skilled engineers and using advanced technology equipment, the raw material and components are carefully selected. meanwhile, we have built closely cooperative relationship with domestic colleges, universities and R&D institutes. Further on we have established a solid relationship with reliable equipment suppliers and our service team are got rich experience in the industry.
Changs Machinery Co.Ltd is located in Wenzhou which is a coast city, it is near to Shanghai or Ningbo port. the convenient transportation reduces transport cost and shortened machine's delivery time aswell.
Being persistent, honest and trustworthy is our Wenzhou Changs Machinery Co.Ltd sbeliefs, we are building service brand to fully meet the reasonable requirement of customers.
Tel: +86-577-86009991 / 86059991
Fax: +86-577-86066075
product description
High Speed Tagless / Label Screen Printer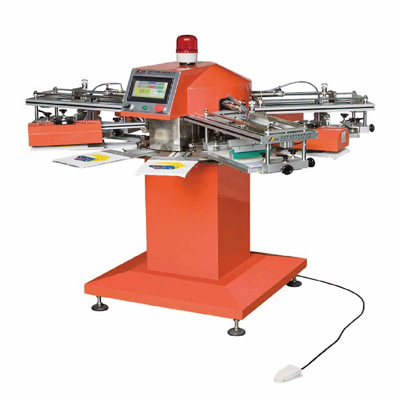 Detailed characteristics:
1.PLC control, man-machineinterface, clear function and simple operation.
2.Flat screen printing, infraredray drying, especially suitable for differenttypes of ink and small area screenprinting frame.Like the collar of a T-shirt.
3.A variety of stations areselected, which are located by the servo motor,running smoothly and smoothly,with high precision to spend.
4.Scraper and ink return knivescan be adjusted both in Angle and height toensure balanced printingpressure.Whencolor printing, the second color screen printing template can beaccuratelyadjusted before and after.
5.Adopt multi-station rotatingworkbench, one of which places the workpiece, (1,2, 3) four stations printing,(1, 2, 3) four stations drying, one stationtaking the workpiece, all of whichcan run at high speed at the same time.
Suitable materials:
Fabrics,garments, t-shirts,gloves, socks, umbrellas, labellogos,etc.
Parameters:
| | | | | |
| --- | --- | --- | --- | --- |
| Model | SPF-1/6 | SPF-2/6 | SPF-3/8 | SPF-4/10 |
| Print Color/Sation | 1+1heat press/6 | 2/6 | 3/8 | 4/10 |
| Max.Printing Area | 150*150mm | 150*150mm | 150*150mm | 150*150mm |
| Dryer | 1 | 2 | 3 | 4 |
| Pallet Size | 200*320mm | 200*320mm | 200*320mm | 200*320mm |
| Max.Printing Speed | 1800pcs/hr | 1800pcs/hr | 1800pcs/hr | 1600pcs/hr |
| Total Power | 3.0kw | 3.8kw | 5.25kw | 6.75kw |
| Rated Voltage | AC220v50/60Hz | AC220v50/60Hz | AC220v50/60Hz | AC220v50/60Hz |
| Air Consumption | 10Litre/min0.6Mpa | 20Litre/min0.6Mpa | 25Litre/min0.6Mpa | 42Litre/min0.6Mpa |
| Dimension | ∅1200*1450mm | ∅1500*1500mm | ∅1500*1550mm | ∅1700*1500mm |
| Weight | 120kg | 230kg | 260kg | 300kg |

SPM manual ratory silk screen printing machine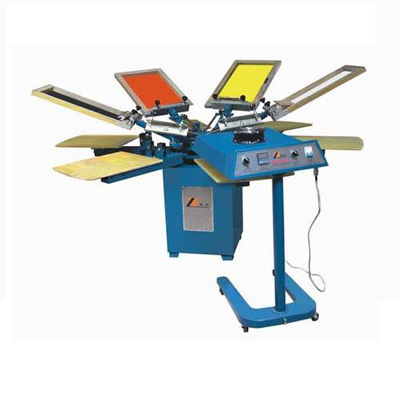 Detailed characteristics:
1. Simple and convenientinstallation
2. Accurate color printing
3. The platform is smooth anddurable
Parameters:
| | | | |
| --- | --- | --- | --- |
| Model | SPM450 | SPM650 | SPM850 |
| Print Color | 4 | 6 | 8 |
| Max. Image Area | 400×350/mm | 400×350/mm | 400×350/mm |
| Pallet Size | 500×400/mm | 500×400/mm | 500×400/mm |
| Each Movable Dryer Power | 6Kw | 6Kw | 6Kw |
| Size | 2500×2500×1300/mm | 2500×2500×1300/mm | 2800×2800×1350/mm |
| Weight | 190Kg | 280Kg | 360Kg |