Company Profile
Wenzhou Changs Machinery Co.Ltd is one of the first company specialized in manufacturing printing machines, packing machines,paper straw machine,plastic machine and paper converting machines,has owned export and import license since 2004.
To consider our full service convenience, we have set up service office and showing room at DRAGON-MART of Dubai to provide technical service for customers from Middle East and Africa in 2006, and also we have established technical support offices in Mexco, Egpty and Singapore, our service has satisfied with all of our customers. We enjoy sound reputation in oversea's market and domestic.
To serve buyers the best machine and ensure our machines are with reliability quality, our factory employed skilled engineers and using advanced technology equipment, the raw material and components are carefully selected. meanwhile, we have built closely cooperative relationship with domestic colleges, universities and R&D institutes. Further on we have established a solid relationship with reliable equipment suppliers and our service team are got rich experience in the industry.
Changs Machinery Co.Ltd is located in Wenzhou which is a coast city, it is near to Shanghai or Ningbo port. the convenient transportation reduces transport cost and shortened machine's delivery time aswell.
Tel: +86-577-86009991 / 86059991
Fax: +86-577-86066075
product description
R12UV Full Auto Single Color Soft Tube Screen Printing Machine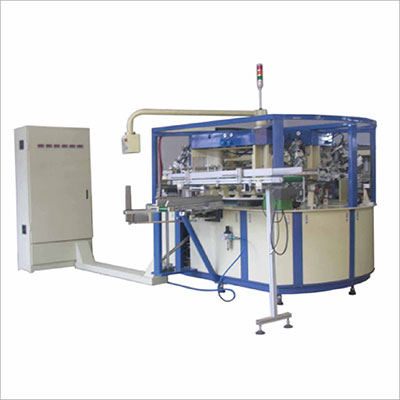 This machine is special for 1 color printing of soft tube, bottle cap and which is similar with the special plastics container. The Max printing speed is 4000pcs/ hour. This machine combine with: advanced PLC、touch operation screen and display control system、fiber digital servo system (the second printing),automatic feeding and unloading conveyer system、flame treatment system, high/low speed mechanical sync transport system, automatic alignment function, and "not work piece not printing" sensor, diagonal mechanical printing fix system
Technical Specification:
| | |
| --- | --- |
| Item | Specification |
| Max printing speed | 3600 pcs/hour |
| Printing area | 236mm x 170mm (Φ75mm) |
| Size of printing object | 10mm < diameter < Φ75mm 20mm < height < 200mm |
| Power supply | 380V 50 MHz |
| Main machine size | 1500m2600mm x 3600mm x 2000mmm x 1180 mm x 1900 mm |
| Machine cover area | 2600mm x 3600mm x 2000mm |
| Machine weigh | 1000 Kg |
| Power consumption | 4.5 KW |
Automatic 5 colors Rotary Screen Printing Machine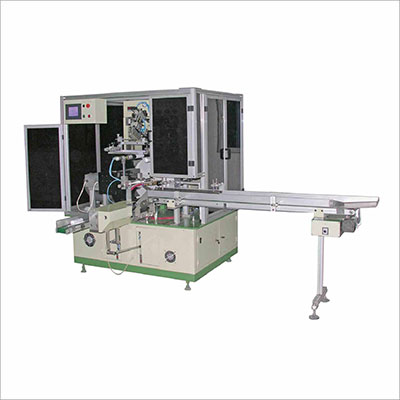 The machine is designed for printing multi-color hoses, caps and other special plastic containers and the development of the maximum printing speed of up to 4000 times. The auxiliary equipment includes: advanced modular program controller and touch screen operation display control system, servo fiber alignment system (secondary printing), automatic feeding and discharging system, flame processor, fast / slow mechanical synchronous transmission system, No bottle does not print "sensor, diagonal mechanical printing fixed system.
The use of rotary mechanical synchronous transmission system, the printing parts in the pipe around the machine after a week to complete the six-color printing, combined with optional large-capacity automatic transmission feeder composed of a high-speed production line. The perfect design and equipment will be able to meet the customer's various containers (such as round, flat, flat bottles, etc.), especially special containers (such as hoses, caps, etc.) printing requirements to achieve the best benefits.
Technical Specification:
| | |
| --- | --- |
| Item | Specification |
| Max printing speed | 3600 Times/Hour |
| Print size | 155mm x 170mm (Φ50mm) |
| Products size | Φ10mm < Diameter < Φ50mm 20mm < Height < 200mm |
| Power supply | 380V 50 MHz |
| Dimension | 3000 x 2800 x 2400mm(not include electric control box) |
| Weight | 4000 Kg |
| Total Power | 30 KW |