Technical Parameters
| | |
| --- | --- |
| Model | JBZ-12H |
| cup size | 6~16oz(Outerside diameter of a cup 60~110mm、Outer diameter of bottom 50~70mm,hight of Cup height 50~135mm、depth of Bottom 5~10mm) |
| Rated speed | 70-80pcs/min |
| Main motor power | 2.2KW |
| Electro thermal power | 8.6/13.2KW |
| Air source | 0.6m³/min;0.6MPa(provided by customer) |
| Applical base paper | 190~350g/(single/double-sided PE coated paper) |
| Weight | 3.8T |
| Main size | 3100mm×1900mm×1800mm |
| Paper cup collector size | 1150mm*850mm*2000mm(cabinet-type) |
| Actual power consumption | 7.5kw |
| Remark | The paper thickness error margin is ±0.05mm for the same set of mould |
| Pipeline | Extra to pay |
Note: The thickness of paper's PE coating should not less than 15g/㎡
Reliability
JBZ-12H smart middle speed paper cup forming machine is provided with advantages of high performance,high efficiency and high quanlity.
The overall steel plate machine body and oil-soraying lubrication system ensures normal and stable long-term operation of the equipment.
High Efficiency and Energy Conservation
Advanced high-precision cylindrical cam driving unit working with gear drive system make sure the precisely working of every station.
Bottom paper feeding controlled by servo tracking system,and raw material paper can be saved effectively.
Foreign technical and Made in china
Paper bottom heating system(Switzerland Leister)uses 2 steps flameless heating.
Every step in production is monitored by photocell(Japan Omron) and be reported.
User-friendly design
The function of machine is controlly by human-computer interface and PLC system.Manual operation can be replaced by automatic paper cup counting and collection table with appropriate setting.

1.Main machine and control cabinet can be opened for eary maintenance and operation.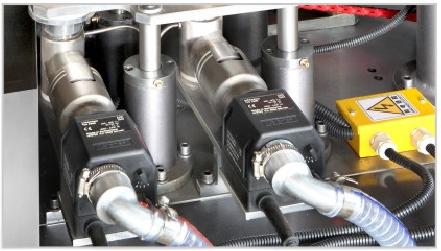 2.2sets air heater(imported from Switzerland)can ensure the stability of the heating temperature;The default temperayure requirement can be set for machine start,that means,the machine will not work unless the set temperature is reached.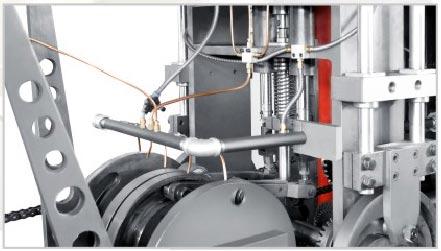 3.independent cam working control left and right sides cam working control the left and right sides cam working time is accurate to every angle high speed paper running with exact position.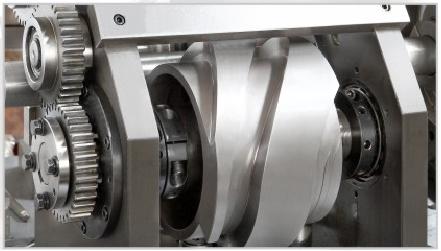 4.Cylindrical cam drive with gear drive ensure the high speed and stable running of machine.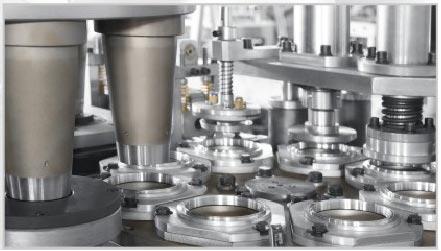 5.Doube curing forming,With the world-advanced PMC curling forming technique combined with the features of Chinese paper the researched and designed double curling forming is very reliable and with comrehensive applicability.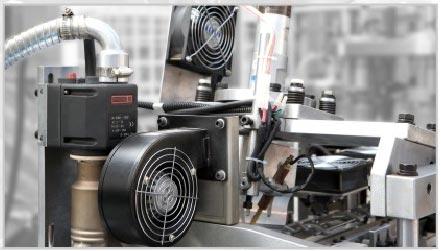 6.hot wind with ultrasonic maximum agglutinate adaptability to paper PE coatingthe stress and duration of ultrasonic decrease substantially Working life is much longer than traditional ultrasonic.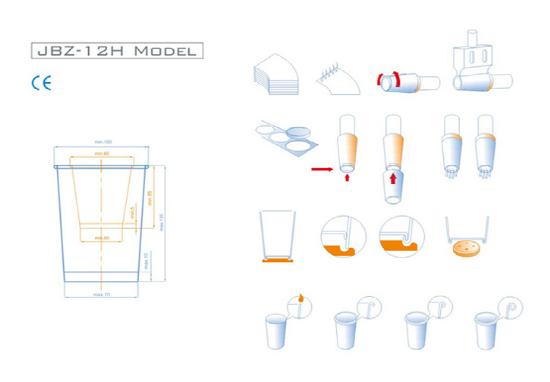 Advantages
1.particular designing of automatic paper detaching for paper sucking station.
2.automatic alarming while machine is lack of meterial paper.
3.multiple paper(no paper sucking of paper blocking)detection and sto system.
4.automatic paper tracking adn bottom paper feeding.
5.mornitoring and auto-stop in case of no-paper during sealing procedure.
6.ultrasonic probe detection system ,no sonic while no peper.
7.mornitoring and uto-stop in case of no-paper-tube during side sealing.
8.machine hand with cup barrel detection and bottom paper automatic feeding
9.detection and stop while servo transmitting no bottom paper, oblique bottom paer.
10.molding cup off detedtion and stop.
11.molding cup miss detedtion and stop.
12.18 stations can be ser to screen and separate.
13.the machine won't start if the bottom forming has not reached the setting temperature.
14. If the machine doesn't work for 5 minutes,it will turn to energy saving model automatically.
15.the manual cuo holding,discharge funtion are installed on the cup collector.
16.PLC control system can set the cutomatic stop of paper collection while no paper cup coming out.
17.the angle of contrlling of encoder can be sdjusted at random.
18.high position stop function(equipments can be separated automatically after the stop-running).