QUOTATTION
DESCRIPTION
QTY
UNIT PRICE(USD)
MODEL:XF- 3200
SINGLE SIDE EXTRUSION
LAMINATING MACHINE
1SET
580,000.00 USD/SET,
CIF Mundra port,INDIA
Delievery time
50 workdays after receive deposit
Payment term
T/T50% in advance and T/T50% Before shipment or L/C 100% at sight
Quotation valid
15 days
Technical Parameter
| | |
| --- | --- |
| Suitable coating film resin | PE,PP |
| Base material | NON-WOVEN FABRIC |
| Max production speed | 200mm/min(Depends on the thickness of coating and base material) |
| Max. width of coating film | 3100mm |
| Thickness of film | 0.01-0.10mm |
| Coating thickness error limit | ±5% |
| Tension range setting | 10-150kg/entire width (constant tension) |
| Max extrusion output | 380kg/h |
| Compound cooling roller | ¢560mm |
| Length of die | 3250mm |
| Clearance of die lip | 0.8mm |
| Total power about | 80kw |
| Total power of the whole machine | About 130kw |
| Max rewinding diameter | ¢1300mm |
| Inside diameter of base material | ¢76mm |
| Weight | 20000kg |
| Overall dimension(L×W×H) | 11000mm×12000×3350mm |
| Machine color | Customer demand |
Configuration and Specification
1.The first feeding device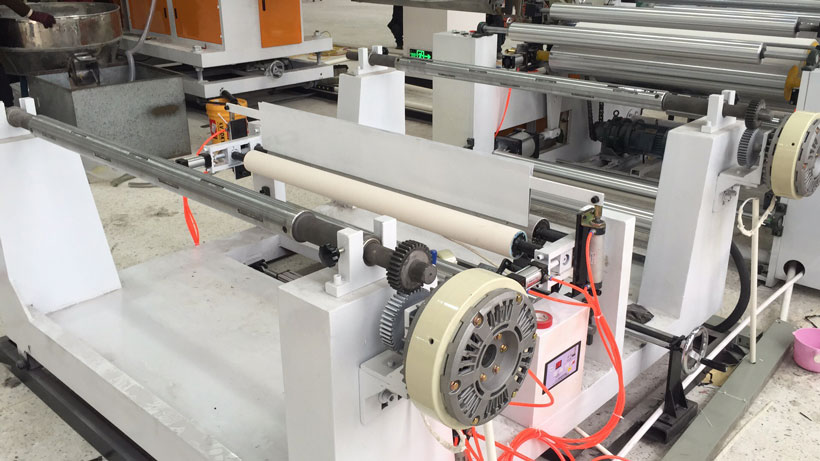 Structure
Double stations feeding frame
Bearing supports the unwinding inflatable shaft
Gas type correcting control system
Semi-automatic splicing device
Tension controller
Specification
| | |
| --- | --- |
| Max feeding diameter | ¢1300mm |
| Tension setting | 100N.m |
| Tension control accuracy | ±0.2N.m |
| Magnetic powder brake | 2 sets(,Ruian) |
| Tension control brake | 2 sets (Made in Guangzhou) |
| Air-expansion feeding shaft | ¢74mm |
| Gas type correcting control system | 1 set (Taiwan Xinhe) |
| Rectify distance | ±75mm |
Characteristic
①Tension control baker: Input parameters according to the size of replace material, It can automatically proportional decreasing to achieve automatic tension control
②Semi-automatic feeding device without stopping unwinding,reduce the scrap rate in production.
2.AdjuvantBOPPGU-ci membranes Put a roll of device 1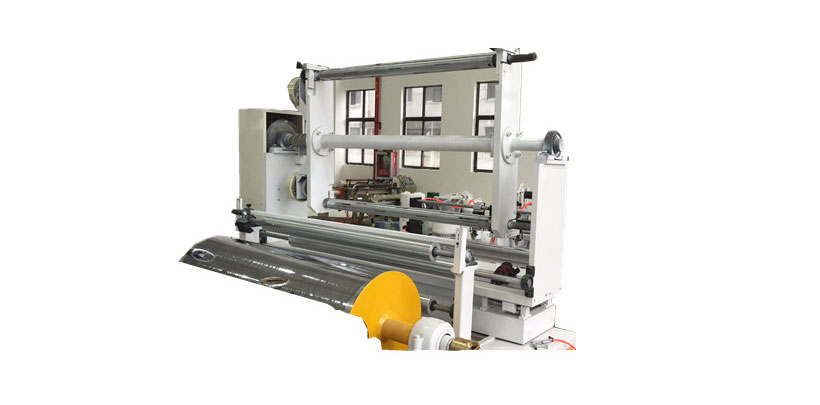 Structure

Double stations feeding frame
Gas type correcting control system
Tension controller
Specification
| | |
| --- | --- |
| Max feeding diameter | ¢700mm |
| Tension setting | 100N.m |
| Tension control accuracy | ±0.2N.m |
| Magnetic powder brake | 2 sets(,Ruian) |
| Tension control brake | 2 sets (Made in Guangzhou) |
| Air-expansion feeding shaft | ¢74mm |
| Rectify distance | ±25mm |
3. Extrusion and compounding device 1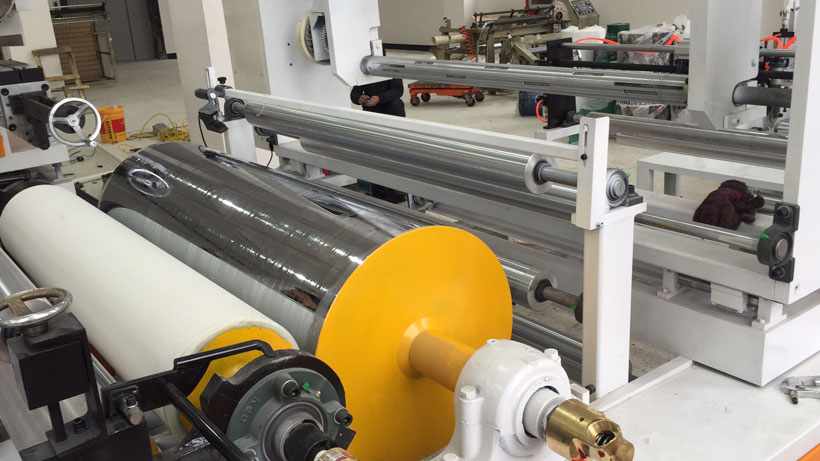 Structure
①Three roller laminating compounded structure, and back pressure roller makes compound roller to force evenly and compound firmly.

②Peeling off silicone roller: compounded products peels off from cooling roller easily.
③Compounding & filling regulating roller can overcome defects such as uneven of film thickness.
④Compounding and discharging eliciting roller.
⑤Compounding roller is to be drived by frequency converter motor independently.
⑥The compounding roller driving motor is to be controlled by frequency converter .
⑦Check the cylinder buffering floating pendulum roller tension
Structure
Compounding roller: ¢560mm×3200mm, 1 piece,Shanghai CNC
Material:Seamless steel tube,Plating chromium on the surface,adopts sub-light processing,the cooling structure is screw type.
Silicone roller: ¢250×3200mm,1 piece,Wuxi,Material is compound silica,internal cooling structure.
Back pressure roller: ¢160×3200mm,1 piece.Material is seamless steel tube,plating chromium on the surface,internal cooling

structure
Compounding cylinder ¢160×100,2 pcs
Peeling roller,¢100×3200mm,1 piece
Motor,22kw

Frequency converter.22KW
Rotating joint,6 pcs,(Tengzhou Shandong)
Characteristic
Cooling roller adopts screw type cooling structure,cooling speed quickly and laminating easier.
Vector frequency converter motor drives independly, which can adjust the speed of the main motor .Not only satisfy the different thickness requirement of laminating products, also assure the thickness and degree of homogeneity are the same.
4.Extrusion device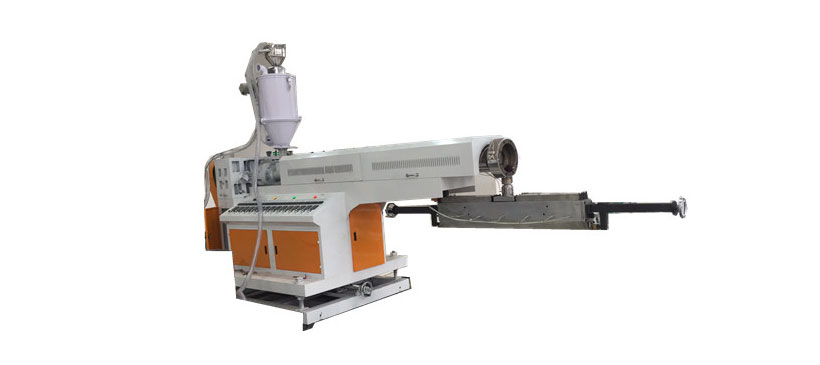 Structure
Trolley type extrusion machine

Clothes-hanger type die head,Huangyan mould,Zhejiang
Feeding device:Automatic feeding device
Extrusion machine can move back and forth, up and down.
Screw and charging barrel linkage area are all heated with tungsten wire
High power and helical gear speed reducer
emperature is controlled by Digital temperature controller automatically(changzhou)
9heating zones are to control temperature of screw and charging barrel independently.
11 heating zones are to control the temperature of inner die head independently.
Specification
Effective width of die head is 3250mm of straight tube type, width of laminating:1600-3100mm.
Screw diameter: Φ145

L/D: 33:1
Frequency converter ,90kw, 1set
Motor,90KW, 1set
Characteristic
T-die is made by the electroplating to make the average and smooth laminating
Larger length-diameter ratio makes resin plasticizing more thoroughly, to assure the peeling strength.
8.Cutting head device
Round knife cylinder ¢40×25
Iadder-shapped screw barra I with static-across-cut by adju sting width of film
Surface hardness cutting roller
A high pressure fan
9.rewinding device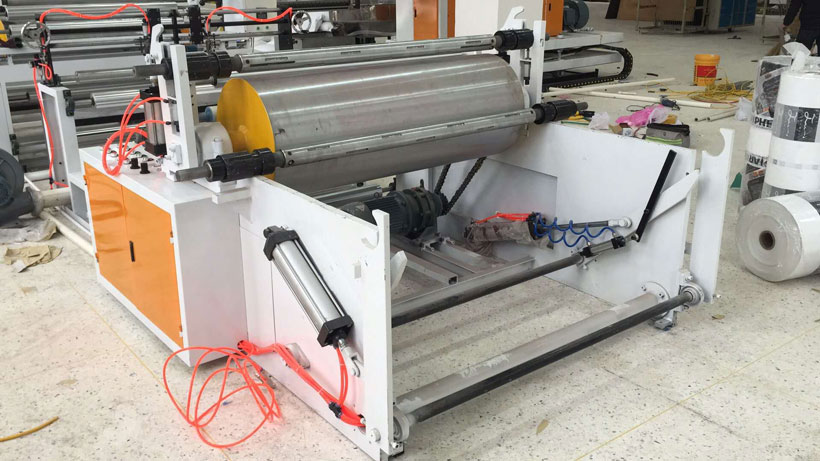 Structure
Surface winding device,double stations
Surface winding roller drives independently
Driving motor
Frequency control
Check the cylinder buffering floating pendulum roller tension
Specification
Rolling diameter:¢1300mm
Core diameter:¢76mm
Surface winding roller,high precision hard chrome plating roller:¢560x2200mm
Motor:22kw
Frequency converter:22KW
Rolling shaft clamping cylinder:¢100mm
Floating cushion cylinder:40x125mm(AIRTAC,Taiwan)
Inflatable unwinding shaft:¢74,2 pcs
Characteristic
Cylinder cushion floating pendulum roller tension detection, precision positioner feedback to drive the implementation of the composite synchronous machines, synchronize the tension stability and ensure a consistent winding tension, winding neat .
10.Others
Guide roller: Adopt the balance guide rollers
Pneumatic elements: Adopted import goods
Low-voltage components: all are UC Certified products.(Omron)
Supply the operating instruction,foundation drawing,electrical drawing with the machine
11.Assistant parts are prepared by user
Compressor:15w,including refrigerator,cooling tower,pump.
Power:Three phases,380V,50HZ,220A,110KW(three phase five wire system)
Air pressure: 6~8/kg/cm2
Water: 2~3kg/cm2
12、Exclusive items
(1)Project of Equipmet place and basic foundation work
(2)Project of supplying electric power tomachine controller cabinet
(3)Project of supplying water in-let to machnie
(4)Project of smoke-extraction for T die
(5)Tools of loading﹠uploading paper from rolling﹠rewingding
(6)Other projects not listed in the contract. Pneumatic slitting with round blade
13、Technical assurance and acceptance
Assure the performance,specification,quality and acceptance standards as following,
A:Performance and specification
(1)Resin:HDPE、LDPE、EVA、EAA、PP,etc.
(2)Base material:non-woven fabric40-300g/㎡
(3)Thickness of coating film:Min is 0.012mm,Max is 0.05mm(LDPE)
(4)Width of finished barrel:Max is 800mm,min is 300mm
(5)Extrusion output:LDPE is 200kg/hr.Temperature of resin is 300~340℃
(6)Recombination speed:Max is 100m/min in normal operation
(7)Tension of unwinding:Max is 40kg.
(8)Max winding and unwinding is 1300mm
B:Machine work and assembly accuracy
(1)All the surface of processing are grinded carefully and hardening treatment
(2)All of the rollers are static and dynamic balance processing,running flexible
C:Acceptance standards
(1)The machine specifications must be consistent with the contract
(2)Extrusion output:Max 180kg/hr
(3)Coating thickness precision:±5﹪(coating 10-30mm,side 20mm)
(4)Max loss:the max is 3% in the normal operation,but except the following,
①Cut the scrap
②The unwinding and rewinding of paper connected
③Start and stop to run the machine
(5)The acceptance will be start after installing and commissioning
①No-load operation:Running two hours no load operation to confirm the machine if has abnormal sounds and heat.Note:The extruder can no load operation)
②Load operation
a)Test the extrusion output:Use the PE resin to test,the methods is to cut out 1 m2 laminating product at the rated speed,get the weight of PE lamination to calculate the extrusion capacity
b)Test the appearance:Rewinding is neat,products do not have wavy edges on both sides after unwinding
c)The width of laminating is steady,rewinding surface is neat
Spare parts
| | |
| --- | --- |
| Name | Quantity |
| Air tap of inflatable shaft | 2 pcs |
| Pipe joints,three way cock,straight through | each 2 pcs |
| Normal screw(kinds of spec.) | each 5 pcs |
| Filter heating piece | 4 pcs |
| T-Die heating rod | 2 pcs |
| Thermocouple | 2 pcs |
| A.C. contactor | 2 pcs |
| Relay | 2 pcs |
| Ampere meter | 1 piece |
| button | 5 pcs |
| Change over switch | 3 pcs |
| Indicator light | 3 pcs |
| Pressure regulating valve | 2 pcs |
Attachment tools
| | |
| --- | --- |
| tool | Quantity |
| 5.5-27 box spanner | 1set |
| 3-27 Internal hexagonal wrench | 1set |
| 8-10 Solid wrench | 1set |
| 200,375 Monkey spanner | each 1 |
| 6#磁性批一字,十字 | each 1 |
| 4#磁性批一字,十字 | each 1 |
| 8# plier,nipper plier | each 1 |
| 15M tape | 1 |
| Pneumatic gun | 1 |
Notes:As the technology is improving,the parts of machine will be changed,we have rights to improved.
Technical data and operation and maintenance and training and after service
一、Details of technical date
1.The foundation drawing of lamination machine(30 days after signing the contract)
2.Operation instruction (including operation and maintain)
3.Structure drawing of machine(Attached in the operation instruction
4.Electric circuit diagram,water and air pipes work diagram
5.Inspection certificate
6.Main parts operation instruction
7.Attachment tools,spare parts(Delivering the machines)
8.Technology and technological operation
9.Structure and technological selection
二、It takes about 15 days to install and debug the machine.After acceptance,company will send two technicians(mechanical and electrical each one) to train the buyer's workers about 3-5 days. the buyer is responsible for the round-trip flight ticket for technicians, food and hotel, visa fees, transportation fee and technician salary 100 US dollars / day / person.(If the purchaser's countries due to war,riots,infectious diseases,the disaster is not conducive to the safety of life, the saler does not provide installation,commissioning and technical support, the buyer should sent technician to saler's factory learning technologies for operation and installtion.the period of Install service for the purchaser received the machine in three months, if exceed this period time,saler will not provide this service)
三、Service commitment
1.The warrant of machine is one year from the date of leaving factory .Due to the manufacturing quality problems to damage the parts,seller will provide the free parts.(the matched auxiliary machine will not in warrant)
2.The Seller will make answer within 24 hours during the machine is in warranty time,if can not solve,should arrange to send the technician ASAP。
3.The seller can supply the advice when the buyer has problems in technological production.
四、To the improvements suggestions from buyer,the seller must be help to improve and answer actively.
If any specification is changed,please contact with us